Residential
residential LOTS: limited availability
commercial lots: now open for purchase
Holliday Farms features an incredible rolling and natural terrain and so our roads follow these natural contours, houses will be situated to preserve trees, enhance views of woods, creeks, ridges and more. This resort-style community is golf cart friendly. It is refined and comfortable, providing amenities throughout as well as quick access to our future commercial village just off Michigan Road.
Work with our team to arrange a tour and find the perfect property fit for you. See if you can 'be part of something extraordinary' at Holliday Farms. Whether overlooking beautiful golf course scenery or natural features throughout, this incredible community will have something for all. We can show you an array of sizes and settings to help find exactly what you're looking for; that corner lot, the one with the view off the 1st tee, sunset or sunrise or no sun or all day sun, walk-out, empty nest; we've got you covered.
Select from one of our many preferred custom builders that we know will provide you with an easy and personal experience. We are not affiliated with any broker, our staff is not commissioned, so we simply welcome you to just meet with our team to see Holliday in a comfortable tour and hear more.
Every lot includes a Sport and Social Membership of our wonderful clubhouse (we waive the initiation fee).
Enjoy access to fitness, dining, the 9-Hole Executive Course, tennis, pickleball & exclusive member events!
'...BE PART OF SOMETHING EXTRAORDINARY.'
Updated Map as of 11/01/23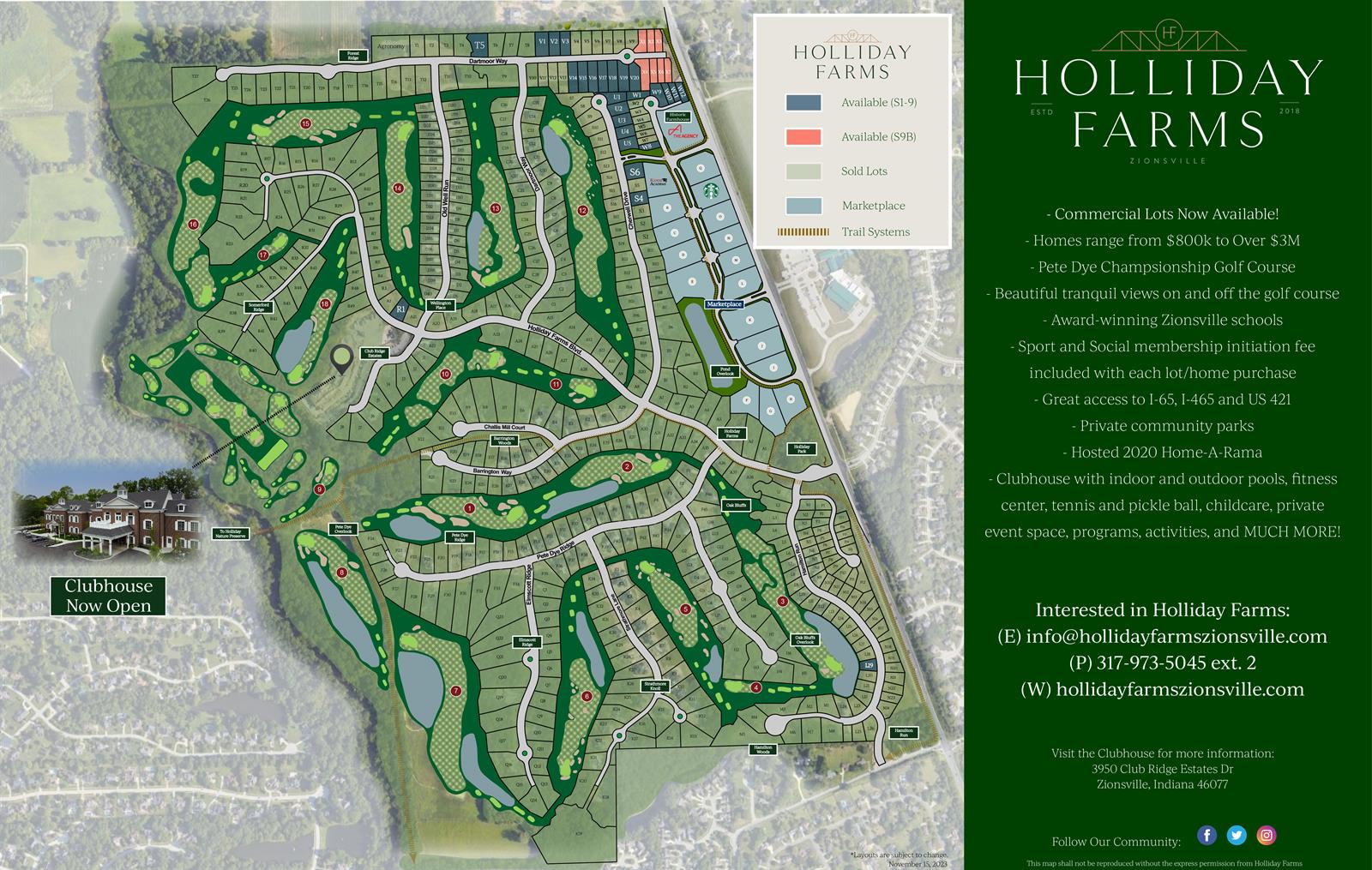 WHO CAN I BUILD WITH?
We have selected an incredible array of custom home builders that you can select from. The Custom Builders include the following:
We look forward to showing you around our beautiful community
and searching for a lot that is just right for you and your dream home!
BROKERS
If you are a broker, you must personally accompany each prospective buyer to a member of the Holliday Farms sales team at the Holliday House for either their first prospective visit or informational inquiry, whichever occurs first.
Each broker must register themselves and their client ahead of meeting with a Holliday Farms Team Member by emailing info@hollidayfarmszionsville.com
From there, the Holliday Farms sales team will carry forward all aspects of the transaction, including touring the community and showing available lots for sale.
If you have questions about this process, please reach out to the Holliday Farms Team at info@hollidayfarmszionsville.com.