Fitness Suite
Embark on a journey of improved health, strength, and vitality. Discover a place where you can challenge yourself, meet like-minded individuals, and be a part of a supportive community.
Start your fitness journey with us today and experience the transformation of both your body and mind.
FITNESS SUITE AMENITIES
At the Club at Holliday Farms, we're dedicated to helping you achieve your health and wellness goals in a welcoming and motivating environment. Whether you're a seasoned fitness enthusiast or just starting your fitness journey, we have the facilities, equipment, and expert guidance to support you every step of the way.
Our Fitness Suite offers a comprehensive range of amenities and services designed to cater to all fitness levels and interests. From state-of-the-art equipment to personalized training programs, we have everything you need to make the most of your workouts and reach new heights of fitness.
Step into our modern fitness suite and discover a wide array of cutting-edge equipment. From cardio machines that get your heart pumping to strength training equipment that helps you build and tone your muscles; our state-of-the-art machines are designed to provide an effective and enjoyable workout experience.
Resistance Area: Build strength and endurance in our dedicated resistance area. Equipped with top-of-the-line resistance machines and free weights, you'll find everything you need to sculpt your body and push your limits. Don't miss our unique 3g grass area with a loadable sled, providing an exhilarating workout experience.
Cardio Zone: Energize your cardio routine with our wide variety of cutting-edge cardio machines. From treadmills and ellipticals to rowing machines and stationary bikes, you'll have the tools to boost your cardiovascular fitness and burn those calories
Studios: Join our expert instructors for invigorating fitness classes in our dedicated studios
PERSONAL TRAINING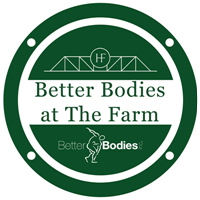 We understand that everyone has unique fitness goals and requirements. That's why our experienced partners and fitness professionals from 'Better Bodies' are here to create personalized training programs tailored to your specific needs. Whether you're aiming to lose weight, increase strength, improve flexibility, or enhance overall fitness, our trainers will guide you towards success.
For further information on personal training please contact: mailto:betrbodiz@aol.com
OPENING HOURS:

6am - 9pm (Monday - Friday)
7am - 9pm (Saturday)
7am - 8pm (Sunday)